Perched high on top a foothill, The White Pig Bed and Breakfast overlooks some of the farm's meadows, mature forest and distant views of Appleberry Mountain and the famed Walton's Mountain. The innkeepers are only the third family to own the late 1800's home that is now The White Pig Bed and Breakfast.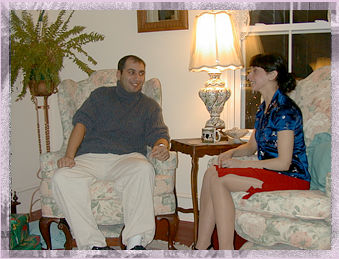 The White Pig Bed and Breakfast, named after our first pot-bellied pig Norman, is a lovely restored Folk Victorian farmhouse. An elegant, yet whimsical home, The White Pig is decorated with our beloved pig and antique collection. This gracious home features two guestrooms with private bath and a guest suite with private bath. Each guestroom is named after one of our adorable pigs and is decorated with antiques and antique replica furniture that reflects the personality of its namesake.
Our common areas include a living room (with television, a VCR, DVD and several videos, as well as a collection of books and magazines), dining room, a large covered porch, a soapstone patio, as well as brick walkways and gardens, which feature some of the largest Holly trees in the area. Guests are invited to walk through the garden, sip lemonade on one of the wicker rockers under the porch, relax in the hot tub or curl up with a book next to the fireplace in the living room.
The bed and breakfast is just a small, but important part of the farm activities. The bed and breakfast was created to support our current rescues of 9 miniature pot bellied pigs, a dog, 5 cats, a pony and an ex-race horse that reside on the farm. It also provides necessary funding that protects the countless wildlife that calls the 172 acres of meadows & forest of Briar Creek Farm their home and protects their land from development and sport hunting. The White Pig Bed and Breakfast is also proud to donate over 10% of our "gross" profits to animal sanctuaries and animal right organizations.




©2011. The White Pig Bed & Breakfast name and logo is trademarked and copyrighted. It may not be reproduced without permission.

This web site was created by and is maintained by HalMac Studios, Inc.