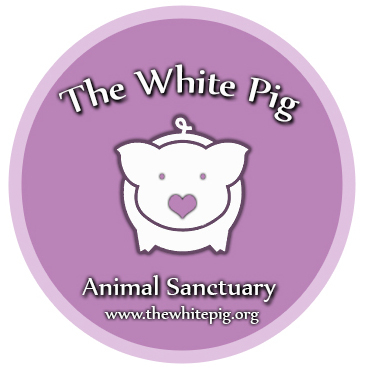 Donate to The White Animal Sanctuary
The White Pig Animal Sanctuary, Creating sanctuary for pigs and vegan outreach to the community.
The White Pig Animal Sanctuary, is a small, up and coming, not for profit animal sanctuary in Schuyler, Virginia that focuses on one of the most brutalized animals, the pig.
The White Pig Animal Sanctuary previously operated as a private sanctuary that was solely funded by The White Pig Bed & Breakfast.
Founder, Dina Brigish, knew the time had come to expand the sanctuary and start focusing on vegan outreach. Hence, The White Pig Animal Sanctuary was born.
Our goal is to provide rescue and a safe haven for abused, abandoned and neglected pigs, as well as reducing the suffering of food animals through vegan education. Advocating a vegan diet is vital because of the enormous impact that it has on animals, the environment, our health and the world we leave for future generations.
Please consider making a donation.
Donate to The White Pig Animal Sanctuary by clicking here (be sure to write in the instructions "for The White Pig") Donations can also be sent to pawnc4whitepig@gmail.com via paypal. If you prefer to mail a check it can be sent to PAWNC 2455 Hurt Dr Rocky Mount, NC 27804, please note in the memo White Pig.
Visit our Facebook page and LIKE US!
Invite your animal-loving friends to like our page as well

All donations go directly towards the pigs and other animals at The White Pig Animal Sanctuary. Donations will help us rescue more abandoned, abused and unwanted pigs, provide medical care for those that are injured and sick, and will help us provide life long care for our residents. Your donations are fully tax deductible through our most generous fiscal sponsor Promoting Animal Welfare in North Carolina.
What will your gift do for the pigs at The White Pig Animal Sanctuary?
$20 funds one bag of pig feed
$50 buys one month of medicine for one of our elderly pigs or sponsor one pig for a month.
$125 pays for one visit from the farrier for the horses.
$175 pays for one neuter for a male pig.
$250 will cover 1 week of food and bedding for the animals
$325 buys three months of hay for the horses.
$350 pays for one spay of a female pig
$500 buys 2 weeks of food for the animals
$1000 buys 1 month of food and bedding for the animals.
Won't you consider making a gift to the pigs?
For more information contact Dina Gilison Brigish: (434)831-1416 or Dina@thewhitepig.com
or visit our website www.thewhitepig.org
THANK YOU!