In Memory of JACOB "Our Gentle Giant"
1995-2009
With much sadness, Jacob my beloved pig passed away on April 24th, 2009 from old age. He was our third adopted miniature pot-bellied pig.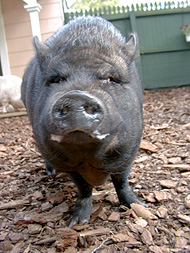 Jacob was the kindest-hearted pig I have ever known. He was cherubic, personable & truly a mellow fellow. He was just a big teddy bear, that loved hugs & belly rubs. Jake would let you do just about anything to him. When we first got him, he appeared on several television shows such as the Fox News Weekend Pet Show & FX's Pet Department in the mid 1990's.
Jacob came to us about eight months after adopting Olive. We received a call through Farm Sanctuary that a local animal shelter in upstate New York had a pot-bellied pig that needed a home. He had been at the shelter a few weeks, but Farm Sanctuary could not take in pot-bellied pigs, so the shelter found us. We had not anticipated adopting another pig after Olive, but it quickly became clear to us that there were many pigs that needed homes and not enough homes for them all, so we made space for Jacob.
Jacob's story was quite common. Someone had gotten him as a young piglet and he was living in a tiny apartment. When Jacob started to grow and was not a tiny, cute piglet anymore, his owners surrendered him to the local animal shelter. Besides the fact that his owners gave him up, they did not care for him properly. He was very thin and underweight, as well has suffering from a terrible skin condition. We later learned that his previous owners had only fed him cat food, which is very bad since pigs are mostly vegetarian and can not digest cat food properly.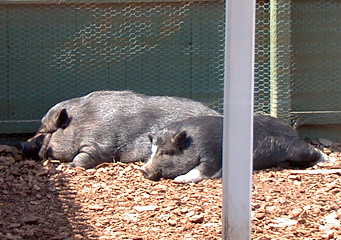 We drove 3 hours to a midway point in upstate New York and met a shelter volunteer at a diner. Jacob was safely transported down to our home on Long Island.
After several oatmeal baths and a few weeks on a healthy diet, Jacob blossomed into a wonderful pig.
Jacob was one of the pigs that moved with us to the farm in Virginia. He enjoyed many years at The White Pig.
Even after suffering from the effects of arthritis after slipping on some ice after a winter storm, he always gave it "the old college try" and lumbered outside twice a day for his meals and some sunshine.
We will sadly miss our Jacob.




©2011. The White Pig Bed & Breakfast name and logo is trademarked and copyrighted. It may not be reproduced without permission.

This web site was created by and is maintained by HalMac Studios, Inc.