In Memory of Olive
1994-2011
My beloved Olive passed away by my side on February 9th, 2011. She was 16 plus years old.
Olive was my very first pig rescue. I adopted Olive when she was just a few months old from the Animal Control in Manhattan, New York. She was found abandoned on the streets of Harlem. She was taken to Animal Control and placed in the pit bull section, since no other cages where large enough to house her. I was contacted by a rescue group (knowing that I had been looking for a friend for Norman) about Olive and immediately contacted the Animal Control about her. She needed to find a home right away, since they had a strict policy of holding animals and she was due to be euthanized. I drove to NYC and picked her up after work that day.
Shortly after coming to live with me she developed Erysipelas, a deadly pig disease, but after getting emergency vet care at one of the finest vet hospitals in Manhattan she soon recovered.
She immediately bonded with Norman and they became great friends. Nine months later Jacob came to live with us, and then shortly followed by Willoughby. They were a happy herd for many years. They lived on Long Island, Martha's Vineyard and the Virginia.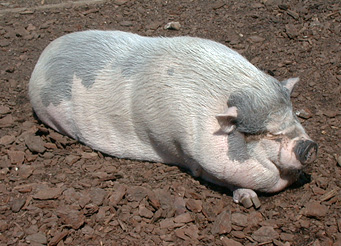 Olive was a TV star (she appeared on a few cable televisions shows), and a star at the bed and breakfast, as well as being greatly loved by many. Olive was a strong, stoic pig and at the same time a sweet and loving pig. My nickname for her was "Sweetie".
I loved Olive very much and she journeyed with me from my days in New York to Virginia. We have been through and experienced a lot together and she will be very much missed.
Love,
Dina




©2011. The White Pig Bed & Breakfast name and logo is trademarked and copyrighted. It may not be reproduced without permission.

This web site was created by and is maintained by HalMac Studios, Inc.