In Memory of Willoughby
1997-2012
With a heavy heart, my dear Willoughby passed away on June 6th, 2012. Willoughby was the last pig I adopted before leaving New York.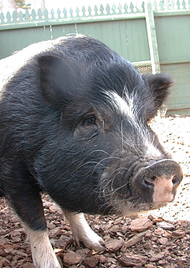 While living in New York, I worked with a local rescue group to find new homes for unwanted, abused and abandoned pigs. Willoughby was one of those pigs.
Willoughby was living in a tiny 8 X 8 pen with no shelter, not even a tree, no water or regular food. His "owner" obtained him for a summer barbeque. But because he rarely fed Willoughby, he did not gain enough weight for such a fate. His "owner" got him as a baby pig and he lived outside for an entire winter in these conditions. It's a miracle he survived.
His "owner" was, to put it mildly, a criminal that had been in jail, and was involved in several illegal activities. He often used Willoughby as target practice with his bb gun.
Willoughby's luck changed when a physical therapist was hired to work with the "owner's" handicapped daughter at his home. This kind physical therapist saw first hand the abuse the pig endured. After a few weeks the woman could no longer stand by, and made a deal with Willoughby's "owner" that in lieu of the money he owed her for her services he would give her the pig.
Although the physical therapist wanted to help him, she lived in a condo and did not have the room to keep a pig. That's how I got involved. She asked me to move him and keep him until a permanent home could be found.
After several weeks of fruitless efforts to find Willoughby a new home I decided to keep him to avoid any more trauma in his life. Willoughby got his name because although he was under weight and neglected, he was a very handsome pig. He was named after the very handsome and dashing character in Jane Austin's Sense & Sensibility.
Willoughby will be greatly missed.
Dina




©2011. The White Pig Bed & Breakfast name and logo is trademarked and copyrighted. It may not be reproduced without permission.

This web site was created by and is maintained by HalMac Studios, Inc.